%@LANGUAGE="JAVASCRIPT" CODEPAGE="1252"%>
A Tribute to Maurice..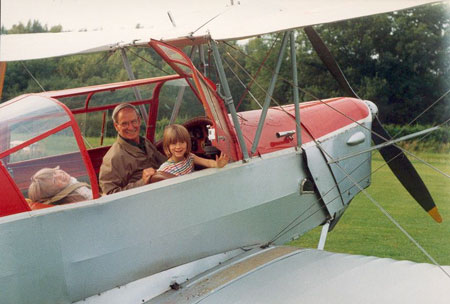 VACRally, 15, 20, 30 years ago.It could be Boston, Montgomery, or many other places, but typically Finmere.It's around 10a.m. A gentle purr is heard in the eastern sky, and a biplane slowly appears."It's Maurice in the Jackaroo!!" somebody shouts. Within the hour, Maurice is giving rides, 3 at a time, with special emphasis given to the many helpers of the day, -prop-swingers, ground-handlers, marshallers, --the line-markers in the regular spot-landing competitions enjoyed by so many, and of course, the tea-makers! A "fuel-run" has been organised, with jerry-cans being ferried back and forth to Joe Pallet's garage in the village, (often kept open for the purpose!)
By dusk,many happy smiling faces will have clambered in and out of that glass-house cockpit; to many it would have been their first experience of flying. My father was one of these and later, my two daughters.. It might only be a 10 minute "local", or you might just be "ballast" for the spot-landing. You could be an extra pair of eyes in the treasure-hunt, or taking part in an impromptu formation, and to those with stronger stomachs, even a dog-fight with Tony Harold in his Tiger Moth!
Maurice lived, ate, and breathed it all! At dusk, often the last to leave after an all-day session, he would set off back for Old Warden, tired and exhausted, but with a huge grin of satisfaction on his face for great delight he had brought to so many people!
A quiet multi-talented man, this is how I came to know Maurice, and share our love for dope and fabric-covered aeroplanes.Subsequently, I regularly came to fly with him all over England , Scotland and Wales, usually to "remote" farm-strips, and accumulating many hours in the "Jack", being encouraged to "take control"! To me, Maurice WAS the V.A.C! Without his gentle prodding, I would still only be dreaming of learning to fly, - Maurice showed me how to turn that dream into reality.
THANK YOU, MAURICE, - many of us will miss you.

A nyone who shares Maurice's passion for "grass-roots" flying should read his to books;- A SUNDAY FLYER, and FLYING THE OREGON TRAIL.